Facilities
Our outdoor school is 27m x 40m and has a silcone sand base. It's also floodlit so can be used in the evenings. It's been here since we started (although it's a bit like Trigger's broom - it's had a new head and a new handle a few times), and has been a most important part of the Pathhead evolution. We've had lots of fun in the school for as long as I can remember. It's been the venue for lots of kids learning to ride. It's also got one of the best views over Kirriemuir on the whole farm.
At Pathhead we try to offer high quality, well-maintained riding facilities, as well as constantly looking to improve the quality of your time on a horse or pony. We are currently improving some of our tracks by adding wee cross-country jumps, banks and 'complications' to make things more interesting for some of our more advanced (or braver) riders. This work will be going on throughout the spring and into summer and some areas may be closed as topsoil is moved around and tree planting is being undertaken. Please be patient - it'll be worth it.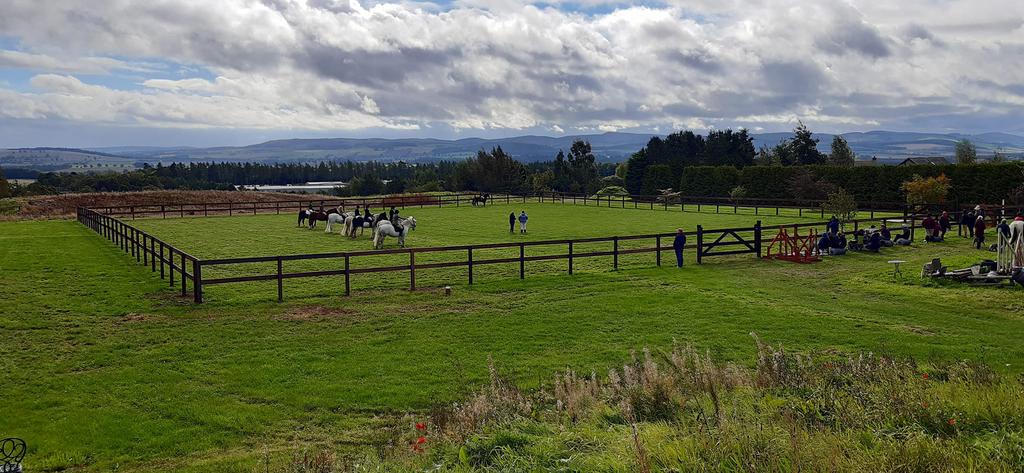 Our jumping paddock is 50M x 60M, big enough for two full size dressage arenas.
---
We have recently upgraded our jumping paddock, erecting new higher post-and-rail fencing in accordance with BHS recommendations, and making the site much more user-friendly during competition time. There's a large, fenced warm-up area nearby, and a new parking area for lorries and boxes is being constructed at the far end of the paddock.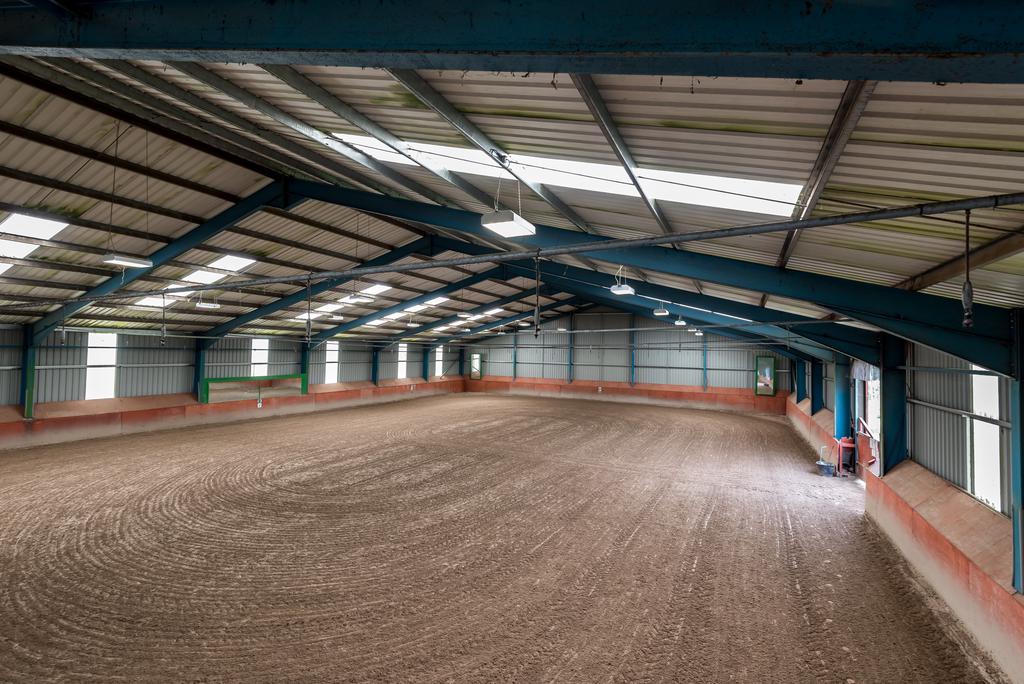 This is our indoor riding school which is 27m x 42m. Purpose built some twenty years ago, it almost bankrupted us! It was by far the biggest risk we had taken in many years of business, but the indoor arena has proved its worth many, many times over. We are very proud of it. The only grant that Pathhead Farm has ever received was £25,000 from the 'European Rural Development Fund - LEADER funding'. We were so grateful at the time for that money. In fact the build cost was so much more! Now, with a silicone sand floor, new LED lighting and an array of solar panels on the roof, the indoor school is more than fit-for-purpose, and we are constantly looking for new ways to enhance it. It provides a safe area for riders to enjoy their learning experience, whilst being big enough for indoor jumping and dressage competitions to take place in the winter months.